ANGLICAN CHURCH OF THE GOOD SHEPHERD
20 Summer Street (opposite the Old Town Hall)
Charlestown, New Hampshire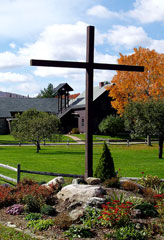 Parishioners of the Church of the Good Shepherd gathered for our annual parish retreat at the Weston Priory in Vermont on the last Saturday of September. We enjoyed the mild weather and were blessed by spiritual refreshment in the quietness and solitude of this beautiful Benedictine monastery.
The month of October is always a joy as we experience the bright fall foliage colors that herald approaching winter. On Sunday, October 12, we commend two events to you.
First the annual Charlestown Harvest Walk will leave the front lawn of the Congregational Church on Main St. for an easy walk to the south end of town and back again. By obtaining sponsors for their participation, the walkers will raise funds for the Fall Mountain Food Shelf and its branch in Charlestown (see article on the front page).
On the same afternoon, the Church of the Good Shepherd, in cooperation with the Charlestown Historical Society, will give tours of the bank vault and recount the bungled burglary of June 11, 1850. Sunday morning services at the Fort at No. 4 will continue through the end of October at 11:30 a.m.
October Calendar
Sundays
9:00 a.m. Holy Eucharist
11:30 a.m. Morning Prayer (1662 Book of Common Prayer) at the Fort at No. 4
Wednesdays
8:00 a.m. Morning Prayer
9:00 a.m. Bible Study (The Way)
Other Services & Events
October 12, Charlestown Harvest Walk & Tour of the Vault
2:00 p.m. Meet at the Congregational Church
2:00-4:00 p.m. Good Shepherd tours of the bank vault
October 18, St. Luke the Evangelist
8:00 a.m. Holy Eucharist
October 28, Sts. Simeon & Jude, Apostles
8:00 a.m. Holy Eucharist

For more information, call the Rev. David Moody at 603-835-7900 or email dwmoody@beaverwood.com.
Home
About Us
Services
Clergy & Staff
News
Calendar
Photos
Links
Map
Mission, Vision, Values
©2009-2018
The Anglican Church of the Good Shepherd
Privacy Policy

WebMaster

This work is licensed under a Creative Commons Attribution-NonCommercial-ShareAlike 3.0 Unported License.